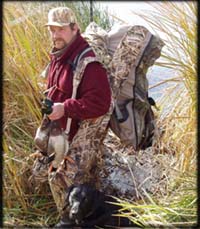 The High School portion of our training program is where all our previous work comes together. This section takes between 4 - 8 weeks, with most dogs completing it successfully within five weeks on average. Kindergarten, Grade School and Junior High training are a prerequisite before starting this section. At the completion of this section, you will have attained control of the complete retrieve. The retrieve should be brought to the heel position and be delivered to hand. Along with the previous commands used at the Junior High level, your gun dog is ready to work with you and experience the thrills of hunting in a variety of hunting situations. When your dog completes this level of training, it is very important that you and your gun dog get into successful hunts on planted or wild birds (birds, birds, birds!) without ever overworking your dog. In this section, we work on:
all on leash and off leash obedience with distractions in the field
recall and quartering
finish force retrieve in yard and field in various hunting situations with various types of objects and birds
quick, clean retrieve
For retrievers, we also work:
delivering bird to hand before shaking off when retrieving out of water
sit steady while shooting birds on land or water marks until sent for the retrieve
Commands used are:
all commands learned from previous training levels
fetch (complete retrieve)
drop (delivered to hand)
The main objective of this section is to have total control on a well trained gun dog (all breeds) in a variety of hunting situations. Please note, it is very important for the owners to learn how to work and maintain these commands by going through training sessions with Terry and their dog.
Training | Breeding | Stud Dogs | Puppies | Photos | Videos | Questions | About Us | Contact Us