Puppies For Sale / Referral Program
We have a puppy referral program. Below is a listing of females recently bred to Holzinger stud dogs. All females on this list are OFA'd and eyes are CERF certified. It is your responsibility as potential buyers to ask for any guarantees, shots, dewclaws removed, worming, socialization of pups, etc. Also, see our Puppy Tips page for helpful information on choosing your pup and getting him ready for training.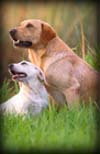 This is not a complete list of Holzinger breedings. It is a list of females that have bred to one of the stud dogs found on our website and have signed up for the puppy referral program. We are not recommending any particular dog on this list. You can get more details about the litters by e-mailing or calling Holzinger Kennels.
If you do purchase a puppy through our web page, we would appreciate it if you would e-mail or call us with the name of the breeder and tell us about your puppy.