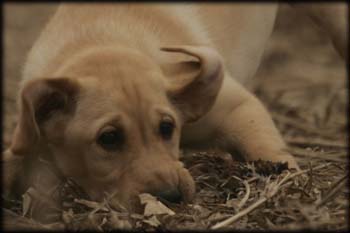 The Kindergarten portion of our program introduces your dog to both birds and guns. This is the most important part of the program you can get your dog into, even if you are planning on doing most of the training yourself.
Your dog should be six months old or older to start this portion of training. If your dog is younger than six months, check out our puppy tips page to get a head start on his training until he's old enough to start the Kindergarten portion of our training program.
This part of the program takes between 10 to 21 days, with the majority of dogs completing it successfully within two weeks on average.
First, we develop as much bird desire as possible. Then, we add the sound of the training pistol in combination with our bird work. It doesn't take long for the dog to realize that the sound of the pistol means he gets to retrieve a bird! We start by working with the pistol in the yard, and then move on to using the shotgun out in the field.
We work in various stages at the dogs' own pace, using very little or no obedience. This reinforces and emphasizes the idea to your dog that working in the field is fun, and helps bring out the most bird desire in your dog as possible. We are usually shooting birds down over the dog in short, successful hunts by the second week of training.
Please call us at the end of the first week for a progress update on your dog and his training. At the end of this section, the owners should come out and watch the dog do a short hunt with Terry. Terry will then give an evaluation of the dog and his progress, and suggest the next steps for the dogs training.
Objectives to this Program
Build bird desire

Learn to associate the gun with birds

Start hunting, quartering and using nose in light to medium cover, while encouraging a natural retrieve.
Training | Breeding | Stud Dogs | Puppies | Photos | Videos | Questions | About Us | Contact Us