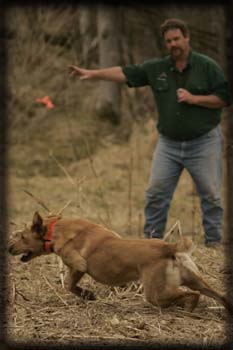 The Grade School portion of our training program emphasizes basic on leash obedience. This section takes between 18 - 28 days, with most dogs completing it successfully within three weeks on average. In this section, we teach the dog:
heeling on the left side (unless requesting right side heel)
recall with short distances
stopping (sit or whoa) while coming towards you
coming around to heel position
slight distraction heeling
discouraging jumping up on people
whoa or sit/stay while walking around dog, petting dog and pulling on leash
may start some retrieving work
some limited field work and/or water work
introduction of some light electric collar conditioning
This work is done on a leash in a limited distraction area. Since each dog has its own level of trainability, all dogs are worked at their own pace. Some dogs may go beyond 28 days of training to complete these objectives successfully.
Commands used are:
heel
here (for come)
sit or whoa
good dog
o.k (release for fun time)
The main objective for this portion of the program is to teach the foundation commands for basic control of the dog. These commands are necessary before going on to the next level, Off Leash and Field Obedience. Please note, it is important that the owners learn how to work and maintain these commands by going through these training sessions with Terry and their dog.
Training | Breeding | Stud Dogs | Puppies | Photos | Videos | Questions | About Us | Contact Us