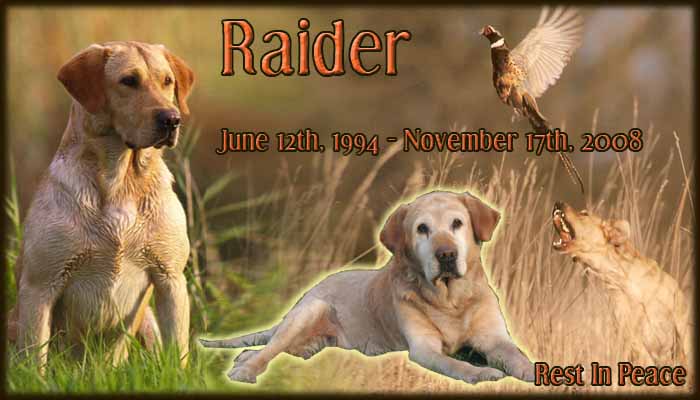 "Raider" GMPR MHR Rik's Risky Raider SH MH
2001 US Open Pheasant Championship - Open Class Winner
APLA Hall of Fame
Raider was brought to us at Holzinger Kennels (located at the MN Horse and Hunt Club) in 1995 to be trained as a gun dog for owner Rick Gerth. When I started training Raider on advanced handling, it quickly became apparent that this dog had what it took to become something very special in the Labrador world. His qualities included an intense retrieving drive, relentless perseverance, strong natural point, very trainable, stylish, bold looks, good bloodlines and an awesome temperament.
I contacted Karen and Matt Cashman (co-owners with me in Cashzinger stud dogs) to consider Raider in the stud dog program. A co-ownership agreement was made with Rick Gerth to advance Raider's training program; to promote hunting titles on him and eventually have him become one of our new stud dogs. As the Cashmans and I went to work, Raider's talents continued to excel as he went on to acquire his Senior in 5 of 5 passes and Master title in 5 of 5 passes in AKC hunt tests, Master in NAHRA (North American Hunting Retriever Association).
I continued to run Raider in APLA (American Pointing Lab Association) to achieve his CP, Master and Grand Master titles. Raider won the 2001 US Open Pheasant Championship - Open Flusher Class Running with me and Todd Haferman. Raider and I also won the Cabela's Sportsmen's Quest Top Gun Class.
Raider's lineage descended from the American and British Field trial bloodlines, and has five generations of US Open Pheasant Championship winners. He is well known for consistently throwing his exceptional qualities into his offspring. They tend to mature quickly and excel to the highest levels of Agility, Tournament Hunting and various Hunt Tests.
Raider would stand on point before he even knew a "whoa" command was. You could try to encourage him to break point and flush, but he would give you a quick glimpse and look back on point without moving.
Raider loved attention unless there was something to retrieve. When I would show him to people, I could not have a dummy in my back pocket or anywhere near. If he knew there was something to retrieve, that's the only thing he wanted to do.
Besides his many accomplishments, if I were to describe Raider in two words I would say " Big Heart". Raider had endless drive to retrieve and always worked very hard to please.
Raider is gone now, but everyone who knew him knows he was a very special companion. It was an honor to stand next to such a fantastic dog while hunting and campaigning. His natural abilities live on in the quality offspring he has produced for us to enjoy. Raider was a great friend, who will be truly missed but never forgotten. Condolences to Rick Gerth, Raider's best buddy and owner who made Raider available for the stud dog program.
Its been quite a journey! - Terry Holzinger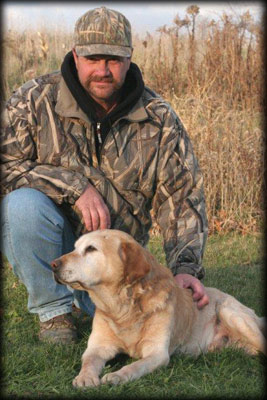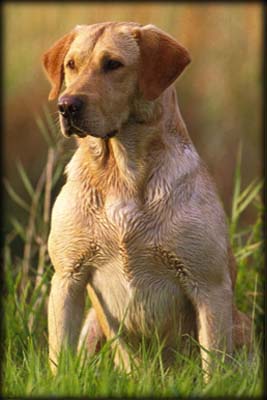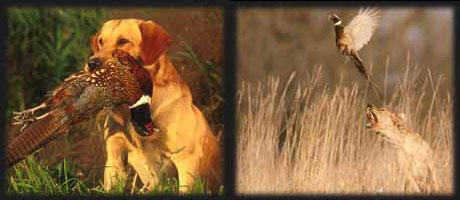 "Raider" MHR GMPR RIK'S RISKY RAIDER SH MH
(Eyes Cerf Normal, Elbows OFA Normal, Hips OFA Good, EIC Clear, CNM Clear)
Awards
2001
Pedigree - "Raider" MHR GMPR RIK'S RISKY RAIDER SH MH
Sire
HOLZINGERS RISKY BUSINESS SH
BLK All English
1988 U.S. Open Pheasant Champion (Amateur Class)
AKC Master 4 Qualifications
Sire
AYR OF HAMBROOK (British Import)
YLW
Sire
FTCH MILLBUIES DUST LAD
Dam
ROSANNE'S JAVA
Dam
HOLZINGERS LADY DUTCHESS (British)
(95 US Open Winner Ė 96 US Open Top Gun Winner)
Sire
FTW SAGE OF SWINBROOK SH
AKC Master 3 Qualifications
Dam
CRESSETT CRYSTAL
Dam
KURTíS BLAZING BEHAVIOR SH
YLW
Sire
FULL CHOKE OF CHUB LAKE
BLK
AKC Master 3 Qualifications
Sire
Dual CH TRUMARC'S TRIPLE THREAT
Dam
SHAMROCK ACRES KANDEYOYO

Dam
TRIEVEN HONEYSUCKLE ROSE

Sire
SUPER POWDER

Dam
TRIEVEN CALLIOPE

Training | Breeding | Stud Dogs | Puppies | Photos | Videos | Questions | About Us | Contact Us